Journal Entry:
Sat Jan 29, 2011, 8:32 AM
Mood: Thanks
Listening to: Megurine Luka & Gumi - speed
I can't believe I managed to procrastinate a good half year before writing this review. What made me get down to writing this was a refreshing memory from the day of the event itself.. Video taken and edited by
elpheal
, our dear local 'paparazzi'! Thank you for your hard work!
www.youtube.com/watch?v=2A0Dzx…
The video is a put together of how
Jesuke
and I made our costumes, like a mini tutorial and interview. Do visit
thecosplaychronicles.blogspot.…
for her many helpful tutorials and reviews!
In support, I uploaded a second shot taken by

's awesome 'cinematic' shot.
Do stay tuned for the rest of my teammates! We will finally be having our shoot, guys!
Chizuru Yukimura 雪村千鶴 :
melo-01
Hijikata Toshizo 土方歳三 :
Kanasaiii
Okita Soji 沖田総司 :
LennethXVII
Saito Hajime 斎藤一 :
Jesuke
Harada Sanosuke 原田佐之助
ashteyz
Todo Heisuke 藤堂平助
Cvy
Nagakura Shinpachi 永倉 新八 :
keixtique69
Chikage Kazama 風間千景 :
ohonigiri
_____________________________________________
Moving on to the review on that day..
Starting with a rough summary. Since forming the team for our traditional Hakuouki costumes, I had always wanted
Kanasaiii
to join us once again for the Calendar version of Hijikata but countless times, she would reject me. Due to the difficulty of dyeing the gradient on his hakama, lack of funds, interest and would rather do other series. We are best friends, so naturally, I was upset, although respecting her decision. Later, I was told by
ashteyz
that we have a coser named.. N-..NN..omg I forgot. Nelly? whatever. joinging us as Hijikata. Despite that, I continued to relentlessly grill
Kanasaiii
to still cosplay Hijikata. But she never agreed to in the end, so I disappointingly gave up.
I was annoyed at this girl who was gonna be our Hijikata. Because she never did come for our team discussion meetings, and was even late turning up for the event. But when she finally came...
The video is for friends only on fb so I screencapped..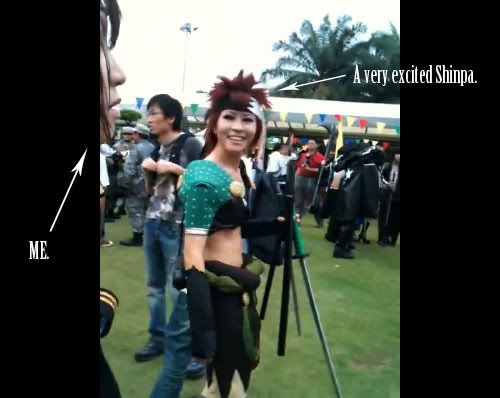 keixtique69
turned almost immediately to see how I reacted!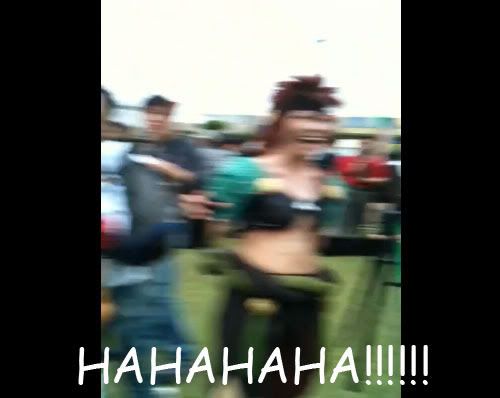 ...and followed by a roar of laughter TwT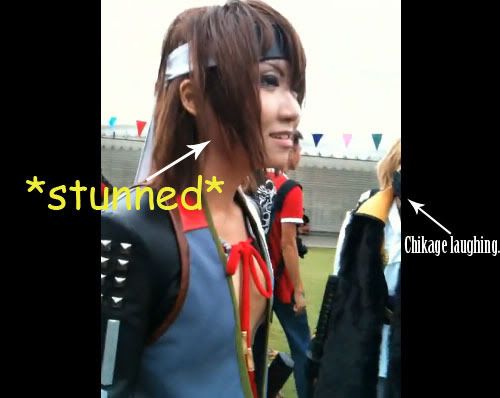 Really, I was just STUNNED.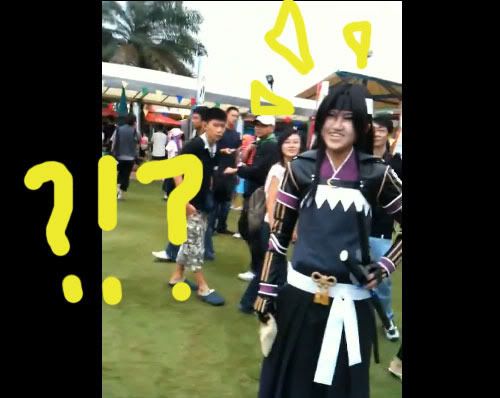 Kanasaiii
as Hijikata Toshizo.
WILL YOU LOOK AT HER PRIDEFUL FACE!! LOLOL!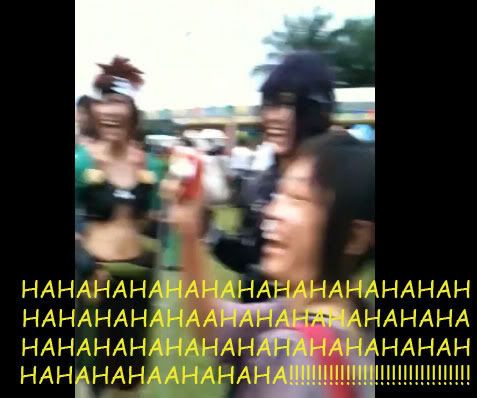 ...everyone was laughing!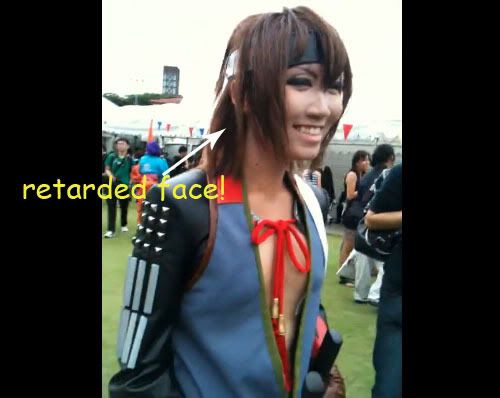 I was speechless and finally, senses hit me and I knew I was pranked.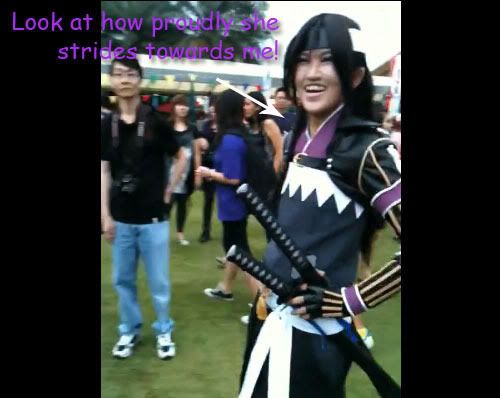 KANASAI, CAN I HIT YOU NOW?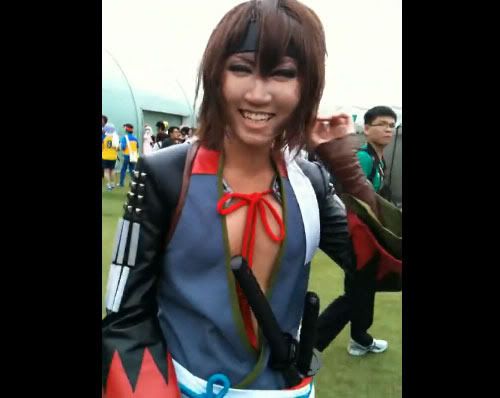 Embarrassed. Amused. Speechless. And....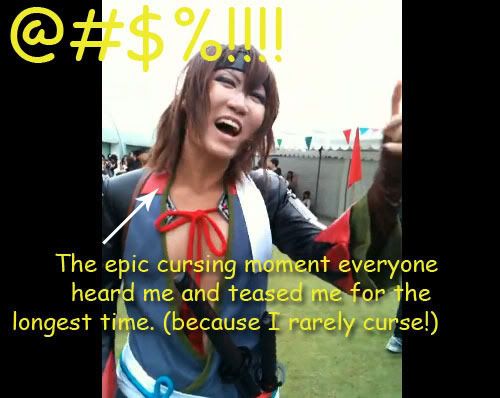 ....amusingly annoyed!!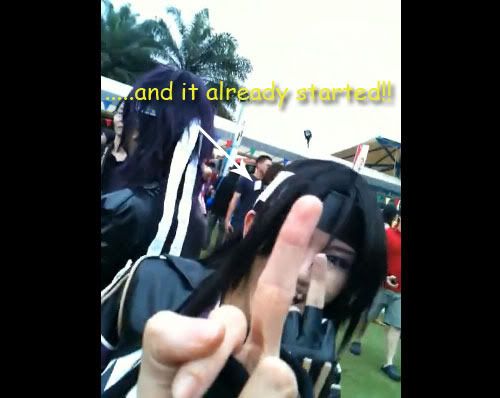 *WHACKTENTOLDSOVER*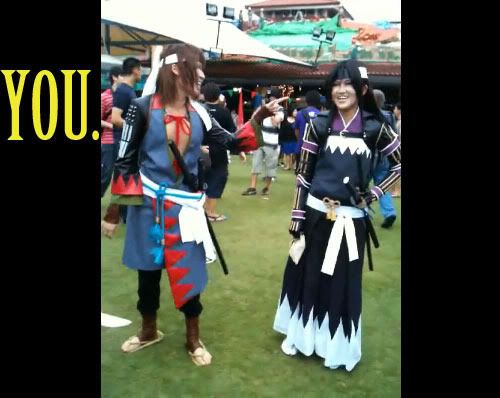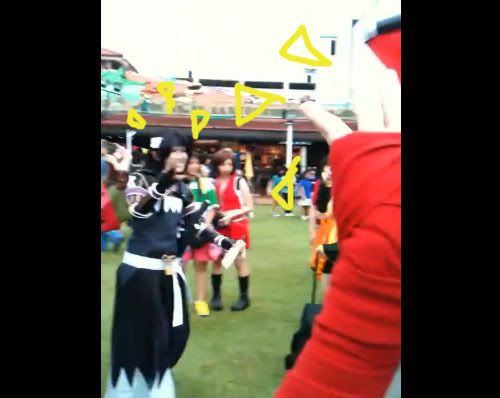 They were like... SUCCESS!! WOOOO!!!!!
....orz
It was not very manly, but I cried. Happy tears of course. Thank you all for bringing me such a dear memory to my heart, especially to
Kanasaiii
who suffered a lot of verbal abuse, tantrums and tried so hard to keep it a secret from me.
Apparently! She gave her thumbs up to cosplay Calendar Hiji even before me. OTL And decided to 'get back' at me for the same prank I did to her 4 years ago. XD
.....Thank you..